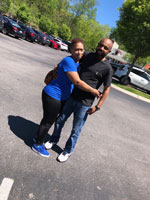 Hello My name is Tracy Fapetu and I suffer from Arnold Chiari Malformation And Fibromyalgia.This is my second year as the organizer of Nashville,Tn and many more to come.It all started back home in Nashville, Tennessee in 2004, after going back and forth to the doctor about headaches, dizziness, gaining a lot of weight and not knowing why, back pain, and muscle spasms. I often got headaches every other day, all day, and nothing would make them go away. I was always told to take some Tylenol or given pain medication. It was like nobody cared about me. It even led up to me losing my job, but I didn't give up. I kept on struggling and striving to do my best. I was even told that I had plantar fascia for the numbness and tingling in my hands and feet and was sent to a foot specialist.
At the time all of these things were going on, I was a single parent of 3. I kept switching doctors because I always said he/she don't know what they were doing. That still didn't take the pain away, but I had to be strong about it and do what I had to at the time. I had to deal with the pain and suffering for 3 years.
In 2014, I met the man that changed my life, and my husband and I moved to New York City. It was October of 2015 I decided to go and get checked out by a doctor in Brooklyn, NY  and she referred me to a eye doctor, and he then referred me to a neuro specialist, who then ordered an MRI and a lumbar puncture and finally got me some closure for my problems. In August of 2017 I had brain surgery which is not a fix but just prolonged the symptoms.I want to say thanks to my doctors and my husband Folusara Fapetu. Now I'm on a road to getting it under control. My husband has been here with me through this struggle, and I thank him for that.