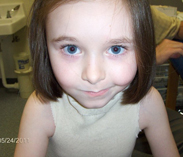 Angela's journey with Chiari begins shortly before her 4th birthday.

She had a "hump" on her back on her right side. We soon found out she has scoliosis. Concerned that she was only 4 with a significant sized curve, we went to a Peds ortho for his thoughts. We were told to prepare ourselves for grow rods because that was going to be the only way to keep her curve from progressing. We sought a second opinion, the thought of repeated surgeries for grow rods did not sit well, we wanted to be sure that it was really the only option.

So we took Angela, aka Diva, to Shriner's Hospital in Lexington, KY....the doctor there requested an MRI. The MRI was done in September 2010 (Chiari awareness month) and they found her syrinx. A rather large and fat syrinx bulging and believed to be causing her spine to curve so obnoxiously. We were referred to a Pediatric Neurosurgeon who was the first to say "Chiari Malformation" ....wanting and hoping to be able to find a doctor a little closer to home we went to Children's Hospital in Pittsburgh, PA, where we were blessed and eternally grateful to find Dr. Stephanie Greene.

Diva's decompression surgery was March 22, 2011. In the year since her surgery, Diva's curve has decreased from a high thoracic curve of 52 degrees w/ a 34 degree compensating curve in her lumbar.....down to 41degrees/ 23degrees compensating.....and her syrinx is gone.

Diva is my hero. Brave and strong beyond her years. Thankfully she is symptom free. She has trouble regulating her body temperature and occasional headaches but nothing like what it was before surgery.

Diva continues her fight. She is an amazing little soul. A brave and strong Chiari Princess. I am so proud of her.

She continues to wear her scoliosis brace, she has been through 5 different ones....what can I say, she's a growing little girl. Her curve continues to improve and we have every reason to believe it will continue to do so.

Thank you for reading Diva's story!! And to the other chiari warriors out there....Keep fighting!! And God bless each of you!!
---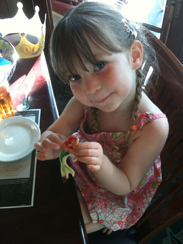 Gwenyth was diagnosed two days before her 3rd birthday.
Since the age of 2 months she was having seizures, unable to sleep, screaming, and had excessive vomiting. As she grew she developed difficulties with balance and other issues.
She had and MRI as an infant and we were told she had infantile spasms. Later we found this to be untrue and continued looking for answers.
By the age of two the seizures slowed down, but she began to have facial tics. Once again, our world fell out from under us. We saw a new neurologist and got another MRI. This is when we were given the diagnosis of Chiari Malformation I.
Things began to "snowball" from there. Multiple tests were ordered including a cine MRI, which showed a complete blockage of her CSF and therefore surgery was a must.
She had her decompression surgery on May 19 of 2011. We were blessed to have a surgeon whom has done several decompression surgeries and was up to date on the latest techniques. She was in the hospital for 3 weeks due to complications.
I am happy to report that today, she is doing well. She is being followed by her surgeon, due to a CSF leak from surgery, but otherwise, no more complications.
If your child is having symptoms that just don't "sit well" with you, I urge you to investigate. Follow your intuition and be vigilant. We had doctors telling us "she's just fussy" or "it's colic, it'll pass". I knew in my heart something was wrong. Today, it is my hope to help others find their path and get the best care for their children.
Awareness is key! View "Gwenyth's Chiari Journey"
---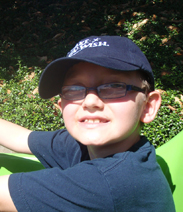 My son Julian was diagnosed at the age of 6 completely by accident.
The doctor who read the CT results had no clue what Chiari Malformation was so he had to actually look it up in a medical textbook. His explanation was followed by "Its nothing to be concerned about".
We didn't accept that, especially after researching what chiari was for myself. Julian, who we thought was without any symptoms, had actually been having symptoms since birth but we were unaware that they were chiari related.
Over the next two years we watched Julian start to go downhill neurologically. He went from being a wonderful soccer player (which he had to stop after his diagnosis) to being a kid who tripped over his own two feet.
We chose to have Dr. Luciano at the Cleveland Clinic to do his decompression surgery. He had the surgery in November 2011. Since surgery, fingers crossed, he has not had a single headache (which was his most common symptom) nor has he had any of the bowel and stomach issues that he battled with prior to surgery. He has also improved considerably neurologically.
Julian is now looking forward to being released by the doctor so he can learn to ride a bike and many other things that he didn't do prior to surgery due to balance issues. He is also very big on spreading chiari awareness to anyone he talks to. And he wears his zipper with pride.
He is looking forward to the Conquer Chiari Walk Across America because its the one time of the year that he gets to be around others who understand what he deals with and has been through.
He is truly my little chiari warrior!
---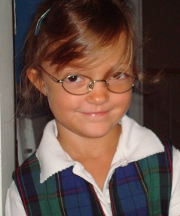 Karli was diagnosed at 18 months of age. Her journey has been very traumatic and challenging. She wants every parent to know the symptoms of Chiari. It is her mission "To spread Chiari awareness, one brain at a time." Please take the time to review the symptoms of Chiari. Her thoughts are prayers are with you.
---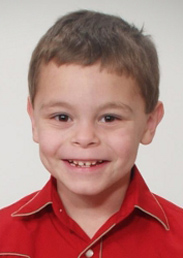 Matthew was about 12 months old when he started exhibiting symptoms of the condition. At first the symptoms seemed to come on slowly and so there was never a thought that what he would go through in the next 12 months would lead us to discovering a life threatening condition. Matthew has a twin sister so they tended to be at the same stages of development. At 12 months, Matthew was walking steadily and of course attempting to even run but I noticed that as the days went by Matthew was having balance problems, he seemed clumsy. Running became more of a challenge where he would only take a few steps and then fall. Another symptom Matthew had was apparent problems drinking and eating. His throat would make a gurgling sound when drinking and he would often vomit soon after drinking or eating anything. He became more irritable and would beat his head against his bedroom wall at night. He started running fever constantly and was seen by his pediatrician.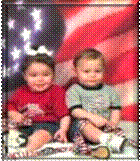 The diagnosis for the fever and vomiting was always a cold or pneumonia. Matthew continued to get worse in every symptom and was losing weight drastically. I even switched pediatricians thinking this might be the reason we got no where but to no avail. After almost a year of frustration in watching my son's health deteriorate before my eyes, I went to the ER at a children's hospital in San Antonio and told them to find us a room, we are staying until someone tells me what is wrong with my son.

After 4 weeks of every type of test and screening known to man they finally did a swallow study and found that Matthew's epiglottis was not working properly therefore any food or drink he would ingest was going into his lungs, not his stomach. They immediately knew then that something was seriously wrong. They suspected a tumor but would not know for sure until after they performed an MRI.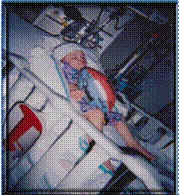 I was actually taking a break from the hospital when I got the call from one of the doctors assigned to Matthew's case. She told me to pull the car over and listen. Matthew had a serious condition that was affecting his neurological system and surgery was our only option. This was the worst condition of Chiari that the neurosurgeon had witnessed as his cerebellar tonsils extended to vertebrae #5.

Matthew was immediately taken off of oral feeding and we started administering his meals by TPN. We brought him home and I stayed home with him until his surgery in late January 2004. Matthew had decompression surgery and was in a drug induced coma in the PICU at Santa Rosa Children's Hospital in San Antonio for 6 days. We were told that there was little chance that he would ever eat orally again due to the severity of the Chiari and the nerve damage.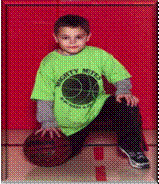 On the 7th day, they woke him up and allowed me to feed him pudding. He ate just like a healthy 2 year old would normally, finishing every drop of his chocolate pudding with no issues! At that moment I knew that we had been doubly blessed, for he came through surgery well and what a wonderful surprise for him to be able to eat again!

Today, Matthew is a very active, healthy 7 year old but almost 5 years ago his future looked very grim. Although he is not able to participate in contact sports or anything that would put him in danger of head or neck injuries, Matthew leads a pretty typical life for a boy his age.