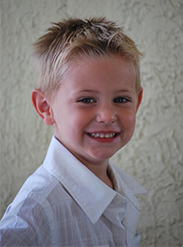 Nehemiah is a 7 year old that is battling with 2 rare brain disorders.

When Nehemiah was 10 months old, he had his first seizure, his parents were told that it was only a febrile seizure and not to worry about it! After several more seizures they were referred to a pediatric neurologist. They performed an EEG on him at the age of 2 and it showed nothing. They were told that sometimes you have to catch the seizure in the act and were instructed to bring him in with the next seizure!

Nehemiah had a MRI in October 2010, the results showed he had Chiari Malformation, something his parents had never heard of. They were told by his nurse that it was 'nothing to worry about'.

After two years his parents were not happy with how Nehemiah was being cared for, they wanted answers. They took him for a second opinion in April 2012.

At Cincinnati Children's Hospital they learned that Nehemiah had another rare brain disorder called Hemiplegic Migraines. It is so rare that Nehemiah is Cincinnati Children's first patient with this disorder! The neurologist informed them that the Chiari Malformation should have been watched by performing an MRI every 3 months and that it IS something to worry about!

He is a 7 year old little boy and loves sports, but was told that he can no longer play them. The neurologist has placed him on major restrictions. He cannot play any sports, ride roller coasters, jump on a trampoline, tumble, jump off diving boards, even a car ride could turn life threatening if he were to be involved in an accident. The only way that he will be able to live a normal life again is to have Decompression surgery, which requires removing 2 bones from the skull and tack the cerebellum up back in its place!

The next episode of the hemiplegic migraine that Nehemiah has, he will need to be rushed straight to Cincinnati Children's Hospital for blood work and MRI to see what is going inside during these episodes. When he has an episode, it leaves him paralyzed on his left side anywhere from 2 – 4 days, very sick, and sleepy! He sees the neurosurgeon and neurologist every 6 months along with an MRI for each visit.

Follow Nehemiah's Journey
---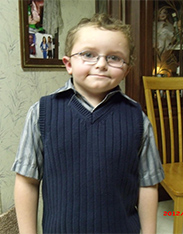 Nicholas is a 7 year old boy from Clarks Summit, Pa. He was diagnosed at 10 months old with Chiari Malformation type 2. In October of 2008, Nicholas had a spinal fusion and was decompressed. After he developed hydrocephalus. He has had several shunt surgeries. Nicholas has absent seizures. Nicholas has 45 degree angle (in xray) of scoliosis. Some of his battles consists of: headaches, insomnia, choking, severe leg pain, vomiting, and neck pain.

Our goal with creating a Facebook page is to get awareness. Nicholas is a HUGE wrestling fan. The wrestling world has given Nic tons of love back. In order to get Chiari noticed, I am gearing up a huge campaign to get John Cena in purple for September 2013.

For cards or well wishes:
Nicholas Black
P.O. Box 827
Clarks Summit, Pa 18411

Follow Nic's Journey
---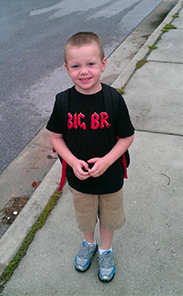 Caleb was born February 25th, 2007 at DeWitt Army Hospital at Ft. Belvoir, VA. He was extremely jaundice and stayed in the hospital for 7 days getting phototherapy. Caleb was a great baby and hit all of his milestones...until he tried to speak. He had a very hard time communicating and would throw terrible fits quite often.

He started speech therapy at 18 months old and is in speech and occupational therapy currently. He also has always had GI issues. He has been hospitalized for terrible bowel impactions and it has been quite traumatic for him.

Caleb has had many evaluations over the years, and started pre-school at three because he was labeled "developmentally delayed" even though no one could really understand what Caleb had going on.

No one could "put their finger on" a diagnosis that fit him. That has since changed because it is evident that Caleb's health issues are impacting his learning.

In August 2012 my husband and I noticed Caleb having more and more "staring spells" than usual (he had always done this but we thought it was day-dreaming) and we wanted to get him checked. His pediatrician wanted to make sure he was evaluated just in case. We were referred to a neurologist at East Carolina University in Greenville, NC. She thought what he was having what is called "Absence seizures". She ordered a MRI and a 24hour EEG to check his seizure activity. Both came out normal...except one finding.

They found that Caleb has something called a Chiari I Malformation. His neurologist decided to keep him on his anti-seizure medicine and take a "wait and see" approach since he wasn't having too many symptoms that were affecting him from day to day. We were very concerned.

On January 5th 2011, Caleb had his first tonic-clonic seizure. He had another one less than a week later. Later we discovered many Chiarians have Epilepsy, GI Issues, and speech/language delays.

In late September, 2012 he had a cine-MRI and they found restricted CSF flow. We were then referred to a neurosurgeon at Duke. In December, 2012 Caleb had his third MRI to check on his Chiari since he has been having more symptoms. We found that it had doubled in size, restricted CSF flow, and Hydromyelia. He has since started presenting with headaches so bad that cause temporary blindness and extreme light sensitivity, and leg pain. He is on another medicine to help with his headaches, but they still come and sometimes even keep him from his kindergarten class.

Caleb will have another MRI in April to see if he should go ahead and have the decompression surgery. It has been a long hard road for Caleb and he is still so young. I know there are many families that are going down that same road, and if I can help or support even one of them with Caleb's story I will feel blessed.
---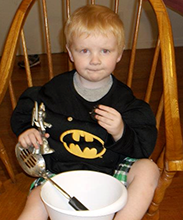 Connor Patrick came into the world on April 6, 2010 at Camp Lejeune Naval Hospital in North Carolina. I did not get to hold him right away because he there were some points during birth that they thought he may not have had oxygen. He did not even cry right away, but once he did, oh boy could you hear him. The first thing I noticed was his hair. It was so white. He looked like a little angel. He looked up at me and gave me a half smirk and went right to sleep. I now think that smirk was my warning that this little guy was going to be my greatest challenge in life.

Connor was always an unhappy baby. I felt something was wrong from the very beginning but kept being told it was nothing. Even when he started having tantrums with breath holding spells.

In May 2012, Connor had thrown a tantrum as usual, but this time he started to have a seizure. He went limp and lifeless and completely pale afterwards. I thought he was dead. I was told in the ER that it was a fluke and it would not happen again, but not even 24 hours later he had another. After fighting with his doctor who still thought there was nothing wrong, we were sent to a wonderful neurologist who after an MRI diagnosed Connor with Chiari. I had never heard of it before and neither had his family doctor.

His neurologist sent us to a pediatric neurosurgeon at Duke who is doing another MRI to decide if Connor needs to go ahead and have the decompression surgery. Every day with Connor is a challenge, but this boy is so worth it. My goal is to raise awareness about Chiari, and Connor's goal is to be Batman.

Follow Connor's Battle with Chiari
---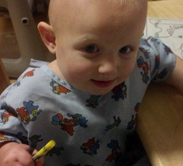 I want to share my baby girls picture and story. Abbie Layne was the happiest baby. She had already had a year of medical nightmares. She was born with a heart defect which she thankfully outgrew.

At her 6 month checkup the doctor noticed her face drooped on the left side and it was then that she was diagnosed with the birth defect torticolis which means the neck muscles were too short on the one side of her neck. She was sent to childrens hospital because she had developed brachycephaly which means her head wasn't growing right. She needed an infant helmet according to the first orthopaedic doctor we saw. Childrens hospital said that with intense physical therapy on her neck her head should straighten out. It did.

Her next problem was her legs. We ended up back at Childrens because we were told her legs were twisted and she was going to need braces. The specialist said she might not walk until she was 18 months but that she wouldn't do braces until she was 2. My little girl started walking at 10 months. She was unsteady but her legs weren't perfect. A few weeks before she turned 1 we were at a wedding and she was running all over. That next Monday she started falling. She was at daycare and she would stand up then fall. She couldn't walk without using the furniture for help. I took her to the doctors and the doctor she saw said it was a viral infection. The next day Abbie couldn't sit without falling over. I took her back in and she saw her regular pediatrician. She did blood work again and said her white count was a little high but that she thought it was something more. She said Abbie was not acting like Abbie.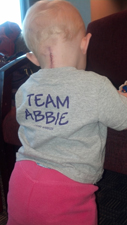 She ordered an MRI and on the 28th of September, two days before her 1st birthday we had the MRI. We got the news she had Chiari malformation the next week. The 8th of October I met with the neurosurgeon and he said she needed surgery. I convinced them to wait until after Halloween since I had a 2 year old also and wanted them to have one more fun thing before surgery. November 1st Abbie had decompression surgery. She did great! She tried pulling out the ivs while in recovery! She developed a fever while in the PICU but that turned out to be an ear infection. She was released after being in the hospital for 5 days. She just went back yesterday because she was leaking out her incision but it was just drainage because she ripped open part of her stitches. She is back to being her normal active self just a week after major surgery! I know there are others that have more problems and some have less but for a 1 year old I'm proud of my baby!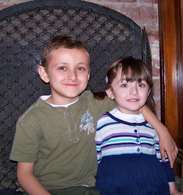 Cian & Kaelan are siblings who were diagnosed a month and two days apart with Chiari I Malformation. Their cerebellum tonsils are herniated 16mm & 10mm respectively.

On June 24th and September 17th, 2011, Dr. Jorge Lazareff, at UCLA led his team to decompress both children. They are doing remarkably.

Follow our journey on Facebook
Cian's Video Kaelan's Video
---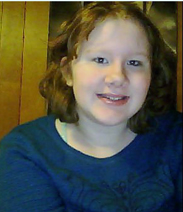 My name is Celena, I am 14 years old and was diagnosed with Chiari Malformation and Syringomyelia in March 2012.

I will be having another MRI to see if there have been any changes and to decide whether I will need surgery, I think that I will, I have vertigo 24/7

I been thinking about rasing money to find a cure for this rare and bad disorder, but I really dont know how and I dont think I can do the walk yet, maybe in the future.

I want to make my own website and try to give information and explain my story with it, and what it is really is and how people/kids have to deal with it.. I do videos on youtube but i feel like thats not enough..I would like it if you share my youtube channels, I will be telling my journey there.

Please visit my YouTube Channel
---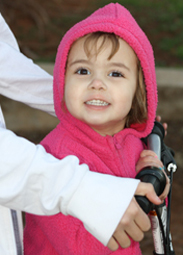 Rihann was diagnosed with Arnold Chiari Malformation Type 1 at age 15 months.

Her first surgery was in March 2010 at age 17 months and second surgery was in Dec 2010.

Rihann started having trouble with passing out and seizures at 11 months. It took 4 months and a MRI too diagnose her. After her diagnosis, and meeting with neurosurgeon, her first surgery was 30 days later.

She did great for a month and then everything started over again. So in december 2010 was her second surgery. With multiple MRI, sleep study, and removal of tonsils and adnoids, and more MRI she is now diagnosed with a Syrinx at her C2.

Rihann is facing another surgery the summer of 2012. Please continue to pray for these children and help FIND AND SUPPORT THE CURE!!!!