What Is Chiari Malformation?
a serious neurological disorder where the bottom part of the brain, the cerebellum, descends out of the skull and crowds the spinal cord, putting pressure on both the brain and spine and causing many symptoms.
---
Common Symptoms
Chiari has a wide ranging, diverse set of symptoms and affects everyone differently. Research shows that 95% of patients experience at least 5 symptoms. (see Symptoms Presentation above)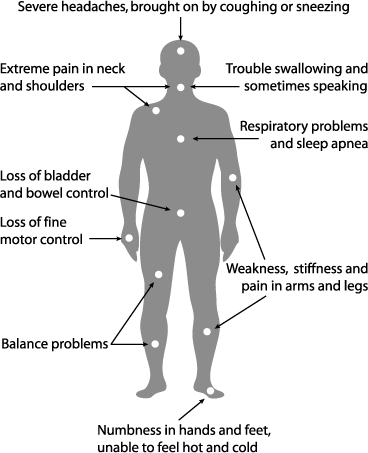 ---
Has your child been diagnosed with Chiari?
Children cannot always verbalize what they are feeling, sometimes the first clue is lack of proper development, either physically or cognitively.

Fortunately, pediatricians are becoming more aware of Chiari, resulting in quicker diagnoses for children.

Click on Nicole's picture to enter our pediatric section for pediatric related articles, literature and support.
---
2017

| 2nd Annual Walker Cup
---
Kim De Haan and Jon Perz | Michigan The Annual Walker cup has raised $1,670!
The Walker Cup is an annual adult hockey tournament in July that takes place at Walker Ice and Fitness Center. Each weekend is a different bracket/division according to the player's skill level. This was the breakdown of this year:

July 7-9th Silver, Division Champions: Great Lakers

July 14-16th Gold, Division Champions: GR Bandits

July 21-23rd Bronze, Division Champions: Wolverine

July 28-30th Co-Ed, Champions: Backdoor Bandits

Each Saturday we had a cookout during the break between games so that everyone could relax and meet players from other teams. We also had shirts available, one style feature our generous sponsors and the other was the Chiari style and said "Keep Calm and Conquer Chiari". Displayed along with the shirts and trophies we had basic facts, Conquer Chiari flyers and in depth descriptions and pictures of what having this means.

Our main goal is to ensure a fun, safe tournament and raise at least an awareness of Chiari.

This year we were blown away by everyone's generosity (And by how many people really wanted to learn more) and are so pleased to report we have raised a total of $930!