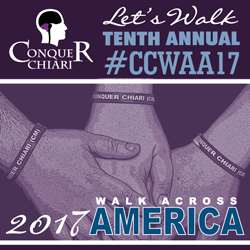 Conquer Chiari Walk Across America 2017 raised over $450,000 for Chiari research and education!

A BIG THANK YOU to all of our donors, corp sponsors, teams, walkers, site organizers, and volunteers. 10,000 people participated at 80+ locations (including Walk Anywhere locations) across the country.
Conquer Chiari has had the pleasure of working with some of the greatest people, they are passionate and determined to spread awareness and raise funds for chiari research. Our walk organizers spend nearly 9 months preparing for the "Big Day", while behind the scenes many are suffering from the symptoms of chiari or recovery from surgery, sitting at the bedside of a child who is recovering from surgery, or mourning the loss of a child or loved one. A special thanks to each of them, for bringing people in the community together and creating a united front against Chiari Malformation.
---
2017 Site/Organizers
AL, Birmingham
Angela Johnson
Rebekah Birmingham

AL, Tuskegee
Daphne Renfroe
Patrick Wallace
Jasmine Lee

AZ, Bullhead City
Bebe Fletcher

AZ, Phoenix
Beth Wells

AR, Little Rock
Cales Marie Cantrall
Jennifer Barakat
Arlene McGinnis

AR, Springdale
Londa Wells
Andria Netherton

CA, Hemet
Karla Ruiz

CA, Sacramento
Sunny Gilstrap
Darcey Ramirez
Timothy Reed

CA, San Diego
Sylvia Amavisca
DeAndra Howell

CT, Westbrook
Rose Ann Prevost
Pam Santiago

DE, Wilmington
Jennifer Duncan

FL, Pensacola
Taryn Cheer

FL, Tampa
Serenity Harper
Vonda Maxwell
Lori Bryant

FL, West Palm Beach
Blanca Diaz

GA, Augusta
Amanda Heath
Sherry & Patrick Farrar

GA, Cordele
Shakeveyia Jones-Daniels

ID, Twin Falls
Mirna Solis

IL, Quincy
Nicky Boden
Sarah Becks

IL, Rock Falls
Jessie Koehler
Rosa Barb

IN, Columbus
Brandy Day
IN, Decatur
Heather Hillery
Valerie Kelly
Lauri Sherry

IN, Evansville
Monica Griest
Angel Griest
Debby Rothert

IN, La Porte
Brandy Witherby
Eric Costello

IA, Des Moines
Tiphany Rumage
Jaque Harmon
Alycia Comer

LA, Shreveport
Kayla Whatley

ME, Central
Sarah Dyer
Erika Sawtelle
Meg Niles

ME, Southern
Chani Cochrane
Kyeana Page

MD, Baltimore
Tierra Hardin

MA, Auburn
Don Tryon
Diana Casavecchia

MI, Shelby Twp.
Lori Mabee

MN, Minneapolis
Natividad Seefeld
Emilie Anderson

MS, Bay St. Louis
Amanda Druery

MS, Columbus
Delerie Graham
Dierdra Raines
Taquanda Walker

MO, Jefferson City
Stephanie Hampton
Mary Cremer

MO, O'Fallon
Kaylee Martin
Diana Martin

NE, Lincoln
Jessi James

NV, Las Vegas
Christine Smith

NH, Nashua
Susan Haley

NJ, Southern
Ann-Marie Hendrickson

NM-Santa Fe
Jennifer Munoz
Juan Munoz
Lydia Lioce
NY, Albany
Charity Pagano

NY, Long Island
Michele Cruz-Vittorio
Kristine Piazza

NY, Newburgh
Jaymee & Ken Barringer

NY, Rome
Nadine & Gene Horn
Susan & Pete Grinnell
Peg Curtacci

NY, Staten Island
Sydell Mack
Marlene Dailey
Iliana Carrillo

NC, Aberdeen
Jenni Nielson

NC, Charlotte
Amanda & Richard Griffith

NC, Hickory
Clarissa James

NC, Forest City
Melissa Oakley
Donna Owens
Kylie Green

OH, Beavercreek
Angela Barnett
Ellie Goeller
Laura Mariani

OH, Bowling Green
Nicole Toth
Sheri Buffington

OH, Cincinnati
Sandi Manuel
Cryssie Tino

OH, Hunstburg
Breanne Skidmore
Shaylynn Skidmore
Denise McAllister

OK, Tulsa
Kate Cottrill

OR, Salem
Chantiell Tabor

PA, Lancaster
Kristy Gergal
Shirley Urban
Shannon Young

PA, Lehigh Valley
Kristen Opfer-Grim
Caity Balloch
Kelly Kennedy-Ebeling

PA, Levittown
Christine Mulherin
Diane Davies-Dixon

PA, Penns Creek
Nena Bilger
Jessica Young


SC, Charleston
Rachel Vose
Sarah Johnson
Jamie Vadala

SC, Clemson
Sarah Johnson
Leah Wilbanks

SD, Canton
Steph Nelson
Stacie Parsons

TN, Knoxville
Frankie Rush
Lisa Adkins
Sandra Beasley

TN, Memphis
Edwin & Lauren Fuchs

TN, Mt Juliet
Racheal Jones

TN, Mountain City
Tina Curd
Amy Curd

TX, Austin
Nicole Bowden
Dannielle Bowden
Jennifer Cooper

TX, Dallas/Fort Worth
Lilly Wilson

TX, Henderson
Dionne Taylor

TX, San Antiono
Veronica Ochoa

UT, Utah Valley
Lauren Pollock
Megan Heward

VA, Charlottesville
Crystal & Mike Soucy

VA, Richmond
Rick Gibbs
Carol Witt

VA, South Riding
Misty Hamidzada
Theresa Hamidzada
Gina Miller

WV, Bluefield
Jessica Dillon
Becky Steele

WV, Charleston
Malisa Turner
Kathy Kent

WV, Morgantown
Debbie Williams
Breanna Williams

WI, Madison
Ashley Thompson

WI, Milwaukee
Angela Zuniga-Meyer
Patrick Meyer