Has your child been diagnosed with Chiari?
If you suspect that your child has Chiari or have been recently diagnosed, these pages may be useful in helping you understand the condition. Click on "Browse Pediatric" in the navigation bar to find patient literature to help you explain to family, friends, medical professionals and teachers that may have a part in the care of your child. You can also meet "real" pediatric patients, get connected to other parents on Facebook and find some hope from other children who battle Chiari everyday.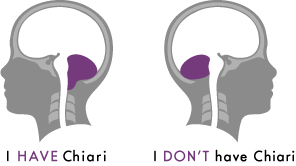 ---
Faces Of Chiari | Nicole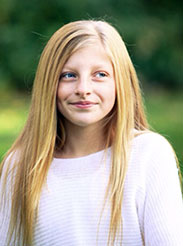 My name is Nicole Piazza and this is my story. I was diagnosed with Chiari Malformation at the age of 7.

Prior to my surgery my body was always in pain. I used to watch all the other kids play and run around and just having fun. But for me I could never keep up because of all the pain I would suffer. I had a headache all the time, pains throughout my body, my balance was off, and I would get a numbness feeling in my legs. Even when I would go to dance, I would come home crying because I just couldn't take the pain.

At 3 years old is when my parent's decided I need to see a doctor to make sure everything was okay with me. The doctor told them everything was fine. I just remember saying, "But how can everything be fine? Nobody else is feeling this way." My parents decided to take me to a back specialist since I was always telling them my back hurt.

After seeing the back specialist, he told my parents I had Scoliosis. My mom took me there every 6 months to make sure there was no change in the curve in my spine. After going there for a while, the doctor said, since I was still feeling the way I was, he thought an MRI would better explain what is going on. "An MRI!", I said, I thought it was something scary. But it wasn't' too bad at all. You just go inside a machine that takes pictures of your insides. As soon as we got home the doctor called, and told my mom I have something called Chiari Malformation. "WHAT?" My mom said. "What is that?" By the way, she had a hard time pronouncing it for the longest time (ha, ha). I was also told that besides the Chiari Malformation, I have Occipital seizures. This is not something that can be cured through the surgery I had.

After being told what I had, my parents did a lot of research and found Dr. Souwediane from NY Presbyterian Hospital who told them he can fix me. Fix me! "Finally", I said, "Someone who can take my pain away." I was so super excited.

When I went in for surgery, they found that my cerebellum was hanging 12mm blocking my spinal fluid. After 6 hours of surgery and 4 days in ICU, they brought me to Physical Therapy to help me walk and climb stairs again. PT continued while I was home and had to be home schooled for 3 months. One of the things I remember is rubbing my fingers together after the surgery and my mom asked what I was doing and I told her, "I never knew this is what my fingers felt like." I always had numbness to the touch, but just thought it was normal.

At my check-up after the surgery I was told I was cleared to play sports and live a healthy normal life. Besides the Occipital Seizures I am perfect. I hope one day, I can drive a car and continue to live a healthy life. I feel lucky enough to have been able to be diagnosed with this at a young age; many people don't even know they have it until they get older.

Spreading the word for me is every important, I went to Hunter College and spoke to the students that are learning to become Medical Assistants and that was really cool. I was able to bring my MRI disc and explain everything. I was even introduced to a woman at a dog shelter and her dog had the Chiari Surgery too.

People with Chiari are not complaining or lazy they are sick and need help and the support from everyone around them. As young as I am I know the difference of how it feels to be in constant pain. I would tell anyone and everyone that no matter what you have going on, it doesn't make you who you are, your personality and YOU, make you who you are. Nothing stopped me why should it stop you!

Thank you for hearing my story. I attached my saying that kept me going.
---