Has your child been diagnosed with Chiari?
If you suspect that your child has Chiari or have been recently diagnosed, these pages may be useful in helping you understand the condition. Click on "Browse Pediatric" in the navigation bar to find patient literature to help you explain to family, friends, medical professionals and teachers that may have a part in the care of your child. You can also meet "real" pediatric patients, get connected to other parents on Facebook and find some hope from other children who battle Chiari everyday.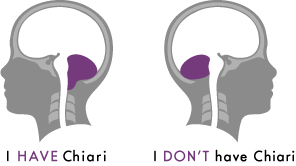 ---
Faces Of Chiari | Sara, Age 9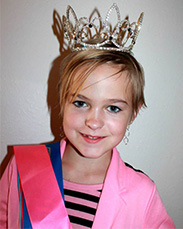 Sara has always been my one child that is known to be a klutz, so when she would fall down running due to losing her balance I would think nothing of it. When she complained of slight back pain, I again did not think much of it as she is always running around doing flips. It's normal, she is a kid, she is having fun. That all changed in March 2013, when we went to the doctor for her normal check up at the age of 9.
Her doctor noticed a slight curve in her spine and sent us for X-rays. Her doctor even reassured as that it looks really slight and most likely will just have to be monitored as she grows. Two hours later we were being set up for an appointment with a Pediatric Orthopedic. Due to her severe case of Scoliosis they sent us for a MRI, as her Orthopedic stated it is not normal for a child her age to have this without something else going on. A week after her MRI, we get the call that she has a Chiari Malformation and was set up to have an appointment with the Neurosurgeon. Not only does she have Chiari and scoliosis she also has syringomyelia with about six syrinx's along her spine. The Chiari is also restricting her CSF flow. Sara was scheduled to have surgery on July 31st.
She was such a champ the day of surgery. All smiles going into the prep room and talking with both the nurses and the doctors. Sara never lost her smile at all. She was even reassuring me saying "mom it will be fine". The doctor came out after surgery and let us know that everything went well and that soon I could go back and see her in recovery. I honestly will say seeing her in recovery was very hard. Not being able to help your child and see all the machines monitor everything, and IV's in her small arms, it was a trial. I was so glad and thankful when she first opened her eyes and said "Hi mom is it already done".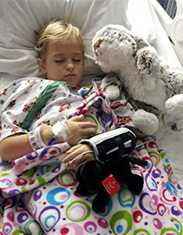 Her recovery went amazingly well. Again all smiles the whole time. All the doctors and nurses were amazed that this little girl never once complained of pain, and was always so courteous saying thank you for everything. She was healing so well that after 24 hours she was taking nothing for pain. She was released from the Hospital on Aug 2nd.
She missed her first couple weeks of school which was the hardest for her. In the past 3 years she has only missed five days of school and that was only due to Robotic competitions. Once she got back to school everyone was wondering how she was doing and were checking out her scar (we call battle wound) as it was clearly visible due to her going to a pixie haircut. Sara being the amazing girl she was explained to everyone what happened and why she had surgery. I received tons of complements on her strength, knowledge, and willingness to help others understand.
As of today, when you look at Sara you could not tell that this year has been a trail for her, you cannot tell that months ago she was in so much pain that sometimes she was curled up in tears, today all you see is this amazing young lady speaking up and giving Chiari a voice. Since surgery she has signed with a modeling agency, getting ready to do a local commercial this winter, being Captain of her Robotics teams, and working on spreading the word about Chiari and is just an amazing daughter.
The first picture is her winning Queen in her division, most beautiful eyes, most photogenic, three weeks after surgery. The second picture was taken after they moved her to PICU.
---
Quick Facts About Pediatric Chiari
Although it is estimated that Chiari affects about 300,000 people in the US, it is not known how many children are affected.
Up to 30% of children born with Spina Bifida also have Chiari.
Trouble swallowing is one of the most common symptoms in young children with Chiari, which can lead to growth problems.
Older children with Chiari often have scoliosis, an abnormal curvature of the spine.
The cognitive, emotional, behavioral, and developmental effects of Chiari have not been studied extensively, and are not well understood.
There have been reports of sudden death related to Chiari, for example due to respiratory issues, but it is not clear how often this occurs.