Has your child been diagnosed with Chiari?
If you suspect that your child has Chiari or have been recently diagnosed, these pages may be useful in helping you understand the condition. Click on "Browse Pediatric" in the navigation bar to find patient literature to help you explain to family, friends, medical professionals and teachers that may have a part in the care of your child. You can also meet "real" pediatric patients, get connected to other parents on Facebook and find some hope from other children who battle Chiari everyday.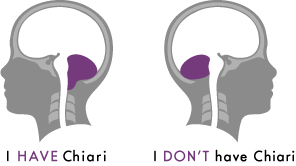 ---
Faces Of Chiari | Bryce, Gone But Not Forgotten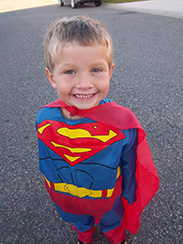 Note from author: During walk planning for the 2013 Conquer Chiari Walk Across America, I was introduced to Ian Autry. I had no idea that this was the father of the little boy I had read about the previous year when a head injury took his life. It was unknown before his accident that he had Chiari Malformation. It had touched my heart so deeply, even more so, the journey towards awareness and the way they keep Bryce's memory alive every single day. Losing a brother in my teens, I understand the trial and tribulations this family has endured, it takes a toll personally, physically and emotionally. This special "Faces of Chiari" is dedicated to Bryce and the unwavering love and dedication of his family. ~Melissa Neff~
On March 30th, 2012 the family of 6 year old, Bryce Autry said goodbye to him, days after he had fallen off his wagon and was unresponsive to what was first thought as a head injury. An MRI would later clarify that he had Chiari Malformation. During this devastating time they made the very difficult choice of donating his organs. This unselfish act, in turn helped 6 people from the ages of 17 months to 49 years old. In September, a nervous and emotional, Ian Autry was asked to speak at LifeCenter Northwest's Donation Celebration, where he also wrote letters to the recipients of Bryce's organs and corneas.
In September, 2013, a month before Bryce's 8th birthday, Bryce's parents Ian and Aria, and his five older siblings hosted the Conquer Chiari Walk Across America in Bozeman, Montana to bring awareness of Chiari Malformation to the community. Thanks to his oldest sibling Brittany, a budding photographer, they had many pictures of Bryce who is described as being "happy go lucky" and thankfully, quite the little ham.
December 20th, 2013, a year and half after saying goodbye to Bryce, they had the chance of meeting one of his recipients. "We were really excited that this day came," said his mom. "We were counting down... Oh my gosh we're actually going to get to meet her." Twenty-one-year-old Emelia Mijangos, received one of Bryce's corneas, after growing up with a degenerative eye condition that kept her from driving and going to college. After a tearful meeting, Mijangos quickly expressed her gratitude. " I already feel like you guys are my family," she said. The Autrys said it was surreal to look at her and know part of their son was looking back.
In January 2014, Bryce's 'florograph,' a depiction of Bryce, was part of the "Donate Life" float in the Rose Parade, dawning his now widely used picture of his "Superman" costume, a fitting picture for a little guy that gave 6 others a chance at life, a true superhero!
Our best wishes go out to the Autry family as they continue to heal and keep Bryce's memory alive in those they inspire to learn more about Bryce and Chiari Malformation.
News: 6-year-old's organ donation will help other children
Video: Family of 6-year-old boy meets woman who received his cornea
---
Quick Facts About Pediatric Chiari
Although it is estimated that Chiari affects about 300,000 people in the US, it is not known how many children are affected.
Up to 30% of children born with Spina Bifida also have Chiari.
Trouble swallowing is one of the most common symptoms in young children with Chiari, which can lead to growth problems.
Older children with Chiari often have scoliosis, an abnormal curvature of the spine.
The cognitive, emotional, behavioral, and developmental effects of Chiari have not been studied extensively, and are not well understood.
There have been reports of sudden death related to Chiari, for example due to respiratory issues, but it is not clear how often this occurs.