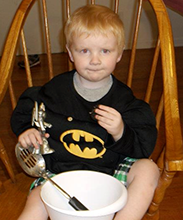 Connor Patrick came into the world on April 6, 2010 at Camp Lejeune Naval Hospital in North Carolina. I did not get to hold him right away because he there were some points during birth that they thought he may not have had oxygen. He did not even cry right away, but once he did, oh boy could you hear him. The first thing I noticed was his hair. It was so white. He looked like a little angel. He looked up at me and gave me a half smirk and went right to sleep. I now think that smirk was my warning that this little guy was going to be my greatest challenge in life.

Connor was always an unhappy baby. I felt something was wrong from the very beginning but kept being told it was nothing. Even when he started having tantrums with breath holding spells.

In May 2012, Connor had thrown a tantrum as usual, but this time he started to have a seizure. He went limp and lifeless and completely pale afterwards. I thought he was dead. I was told in the ER that it was a fluke and it would not happen again, but not even 24 hours later he had another. After fighting with his doctor who still thought there was nothing wrong, we were sent to a wonderful neurologist who after an MRI diagnosed Connor with Chiari. I had never heard of it before and neither had his family doctor.

His neurologist sent us to a pediatric neurosurgeon at Duke who is doing another MRI to decide if Connor needs to go ahead and have the decompression surgery. Every day with Connor is a challenge, but this boy is so worth it. My goal is to raise awareness about Chiari, and Connor's goal is to be Batman.

Follow Connor's Battle with Chiari
---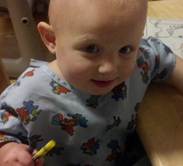 I want to share my baby girls picture and story. Abbie Layne was the happiest baby. She had already had a year of medical nightmares. She was born with a heart defect which she thankfully outgrew.

At her 6 month checkup the doctor noticed her face drooped on the left side and it was then that she was diagnosed with the birth defect torticolis which means the neck muscles were too short on the one side of her neck. She was sent to childrens hospital because she had developed brachycephaly which means her head wasn't growing right. She needed an infant helmet according to the first orthopaedic doctor we saw. Childrens hospital said that with intense physical therapy on her neck her head should straighten out. It did.

Her next problem was her legs. We ended up back at Childrens because we were told her legs were twisted and she was going to need braces. The specialist said she might not walk until she was 18 months but that she wouldn't do braces until she was 2. My little girl started walking at 10 months. She was unsteady but her legs weren't perfect. A few weeks before she turned 1 we were at a wedding and she was running all over. That next Monday she started falling. She was at daycare and she would stand up then fall. She couldn't walk without using the furniture for help. I took her to the doctors and the doctor she saw said it was a viral infection. The next day Abbie couldn't sit without falling over. I took her back in and she saw her regular pediatrician. She did blood work again and said her white count was a little high but that she thought it was something more. She said Abbie was not acting like Abbie.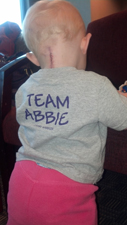 She ordered an MRI and on the 28th of September, two days before her 1st birthday we had the MRI. We got the news she had Chiari malformation the next week. The 8th of October I met with the neurosurgeon and he said she needed surgery. I convinced them to wait until after Halloween since I had a 2 year old also and wanted them to have one more fun thing before surgery. November 1st Abbie had decompression surgery. She did great! She tried pulling out the ivs while in recovery! She developed a fever while in the PICU but that turned out to be an ear infection. She was released after being in the hospital for 5 days. She just went back yesterday because she was leaking out her incision but it was just drainage because she ripped open part of her stitches. She is back to being her normal active self just a week after major surgery! I know there are others that have more problems and some have less but for a 1 year old I'm proud of my baby!
---
Cian & Kaelan are siblings who were diagnosed a month and two days apart with Chiari I Malformation. Their cerebellum tonsils are herniated 16mm & 10mm respectively.

On June 24th and September 17th, 2011, Dr. Jorge Lazareff, at UCLA led his team to decompress both children. They are doing remarkably.

Follow our journey on Facebook
Cian's Video Kaelan's Video
---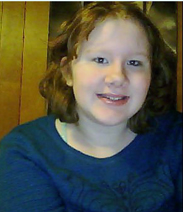 My name is Celena, I am 14 years old and was diagnosed with Chiari Malformation and Syringomyelia in March 2012.

I will be having another MRI to see if there have been any changes and to decide whether I will need surgery, I think that I will, I have vertigo 24/7

I been thinking about rasing money to find a cure for this rare and bad disorder, but I really dont know how and I dont think I can do the walk yet, maybe in the future.

I want to make my own website and try to give information and explain my story with it, and what it is really is and how people/kids have to deal with it.. I do videos on youtube but i feel like thats not enough..I would like it if you share my youtube channels, I will be telling my journey there.

Please visit my YouTube Channel
---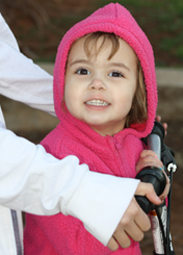 Rihann was diagnosed with Arnold Chiari Malformation Type 1 at age 15 months.

Her first surgery was in March 2010 at age 17 months and second surgery was in Dec 2010.

Rihann started having trouble with passing out and seizures at 11 months. It took 4 months and a MRI too diagnose her. After her diagnosis, and meeting with neurosurgeon, her first surgery was 30 days later.

She did great for a month and then everything started over again. So in december 2010 was her second surgery. With multiple MRI, sleep study, and removal of tonsils and adnoids, and more MRI she is now diagnosed with a Syrinx at her C2.

Rihann is facing another surgery the summer of 2012. Please continue to pray for these children and help FIND AND SUPPORT THE CURE!!!!
---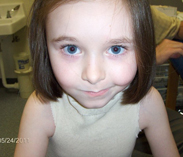 Angela's journey with Chiari begins shortly before her 4th birthday.

She had a "hump" on her back on her right side. We soon found out she has scoliosis. Concerned that she was only 4 with a significant sized curve, we went to a Peds ortho for his thoughts. We were told to prepare ourselves for grow rods because that was going to be the only way to keep her curve from progressing. We sought a second opinion, the thought of repeated surgeries for grow rods did not sit well, we wanted to be sure that it was really the only option.

So we took Angela, aka Diva, to Shriner's Hospital in Lexington, KY....the doctor there requested an MRI. The MRI was done in September 2010 (Chiari awareness month) and they found her syrinx. A rather large and fat syrinx bulging and believed to be causing her spine to curve so obnoxiously. We were referred to a Pediatric Neurosurgeon who was the first to say "Chiari Malformation" ....wanting and hoping to be able to find a doctor a little closer to home we went to Children's Hospital in Pittsburgh, PA, where we were blessed and eternally grateful to find Dr. Stephanie Greene.

Diva's decompression surgery was March 22, 2011. In the year since her surgery, Diva's curve has decreased from a high thoracic curve of 52 degrees w/ a 34 degree compensating curve in her lumbar.....down to 41degrees/ 23degrees compensating.....and her syrinx is gone.

Diva is my hero. Brave and strong beyond her years. Thankfully she is symptom free. She has trouble regulating her body temperature and occasional headaches but nothing like what it was before surgery.

Diva continues her fight. She is an amazing little soul. A brave and strong Chiari Princess. I am so proud of her.

She continues to wear her scoliosis brace, she has been through 5 different ones....what can I say, she's a growing little girl. Her curve continues to improve and we have every reason to believe it will continue to do so.

Thank you for reading Diva's story!! And to the other chiari warriors out there....Keep fighting!! And God bless each of you!!